PROFESSOR JACK CUNNINGHAM PhD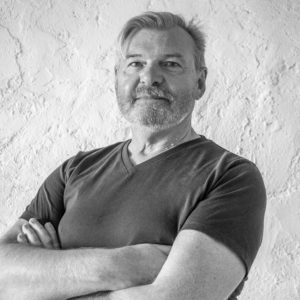 Jack Cunningham would describe himself as a contemporary narrative jeweller. Relationships, place and memory, are factors of particular significance in the dialogue present in his jewellery. Equally important in the process of communicating his ideas are the materials incorporated, which include found objects and ready-mades. Through the process of association and personal viewing methodologies, Cunningham is interested in the narrative that is consequently established between the maker – the originator of the artefacts statement, the wearer – the vehicle by which the work is seen, and the viewer – the audience who thereafter engage with the work.
As an academic he held the post of Lecturer, then Head of the Silversmithing and Jewellery Department at The Glasgow School of Art (1990 – 2008). Cunningham became Head of the School of Jewellery at Birmingham City University, between 2008 and 2014. In 2017 he was Visiting Professor at Kolding School of Design, Denmark, and in 2018/19 at Edinburgh College of Art, Scotland and Limoges School of Art (ENSA) in France. His work is held in numerous public collections, including; the Victoria & Albert Museum (V&A), the Crafts Council Collection, the Royal Scottish Museum - Edinburgh, and the Museum of Decorative Arts - Montreal.
Recently, Cunningham has been creating non-wearable miniature compositions – 3 dimensional collages; mixed media fragments and objet trouve which, when brought together, may suggest a narrative greater than their individual parts.
Cunningham and his wife Jennifer live permanently in France, spending time between their village house in the South West and their apartment in Paris.
On Professor Jack Cunningham:
"The work of Jack Cunningham, provides very clear evidence of a personal commitment to thinking and travelling outside Scotland, his country of origin. His still-evolving mixed-media brooch form, often a highly individual jigsaw using found objects and mementoes of his journeys in Europe and the Far East with stylised fabricated elements, speaks from the maker's life-experiences and emotional history. The wearer and viewer, whose display and reception of the piece will necessarily have their own motivation, continue the journey."

Professor Elizabeth Moignard (Paradigma 2 Catalogue)